A Guide to Faculty Adoptions
Important Information
Submitting adoptions in a timely manner is imperative for students' success.
There are two ways to submit a textbook adoption:
To ensure order accuracy, always fill in all fields when placing an order.
ISBNs are the key to identifying a book correctly; please always use the ISBN-13 when submitting to the bookstore.
The contact for adoption questions is Erin Fischer, she can be reached at

[email protected]

or 218-733-7649.

Only click into classes that you want to adopt to. Once one person clicks into a class, no one else will be able to get into that class again.

Visit the Faculty Inclusive Access info page if you are using Inclusive Access or want more information about IA.
***PLEASE CAREFULLY READ THE INSTRUCTIONS PRIOR TO CLICKING IN EACH STEP. GENERALLY, ONCE YOU HAVE CLICKED THROUGH SOMETHING THERE IS NO GOING BACK!
How to use the lsc store adoption website
Log into Faculty Portal:
1. Visit the Faculty Adoption login page
2. First time users only - Click "Register Here". Those already registered can log in with an email address and LSC Store Password (skip steps 3-5).

3. Click "Faculty Adoption Registration"

4. Fill in all the required fields - Department's Username and Passwords need to be requested by contacting Erin Fischer or 218-733-7649. Click "Submit Faculty Registration"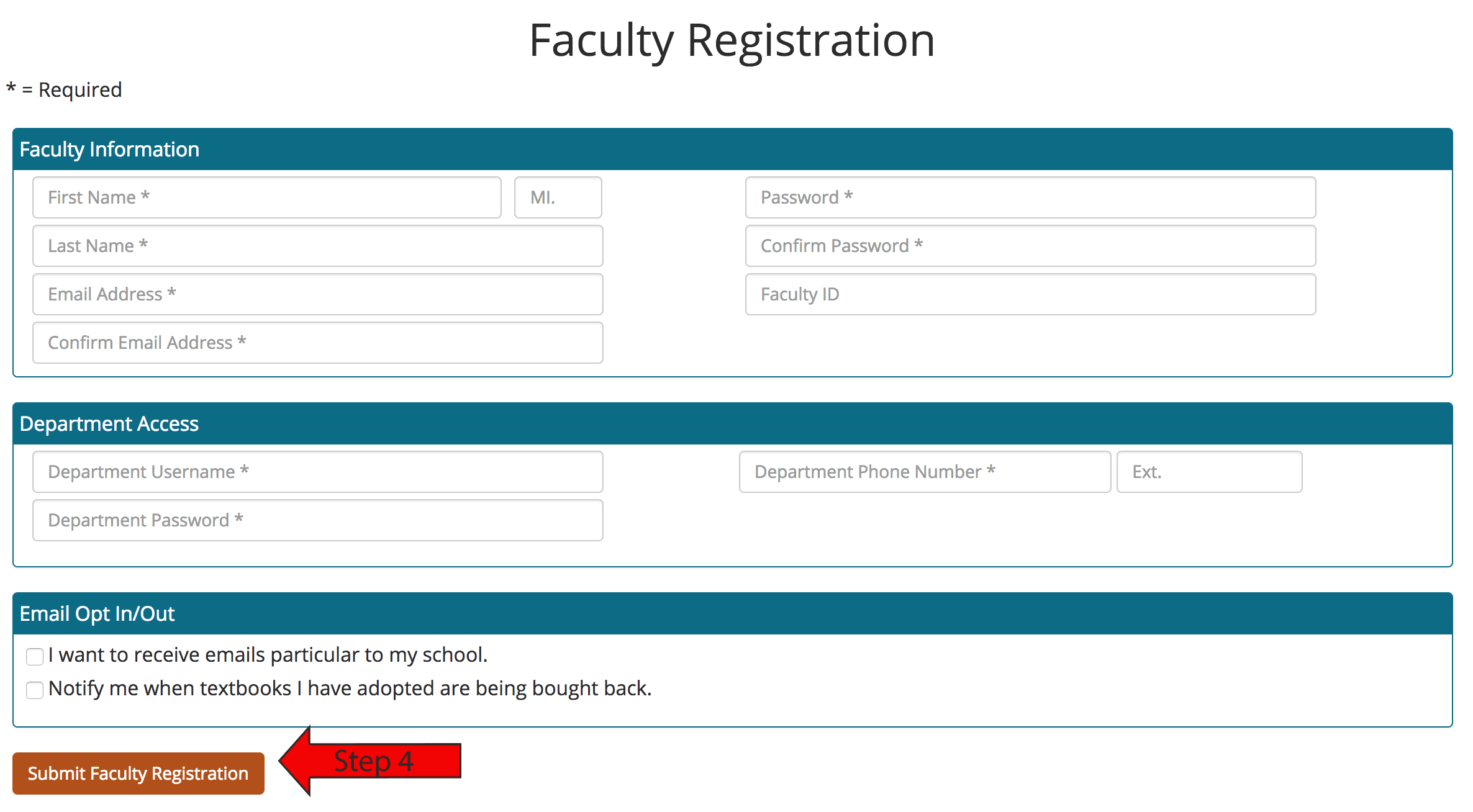 5. Click "Go to Faculty Page
Place adoption guided adoption
1-2-3 Step by step method
6. Click on "Guided Adoption"

7. Fill in the information from the drop down fields.
Be sure to select yourself from the "Instructor Filter" (unless you are adopting for another instructor.)
If you are teaching more than one section in each course number, you will need to adopt to each section separately. DO NOT CLICK ADD NEW SECTION. PLEASE ONLY CHOOSE FROM THE DROP MENU (at the end of this process you will be able to copy the adoption you are currently working on to each class/section that has the same materials.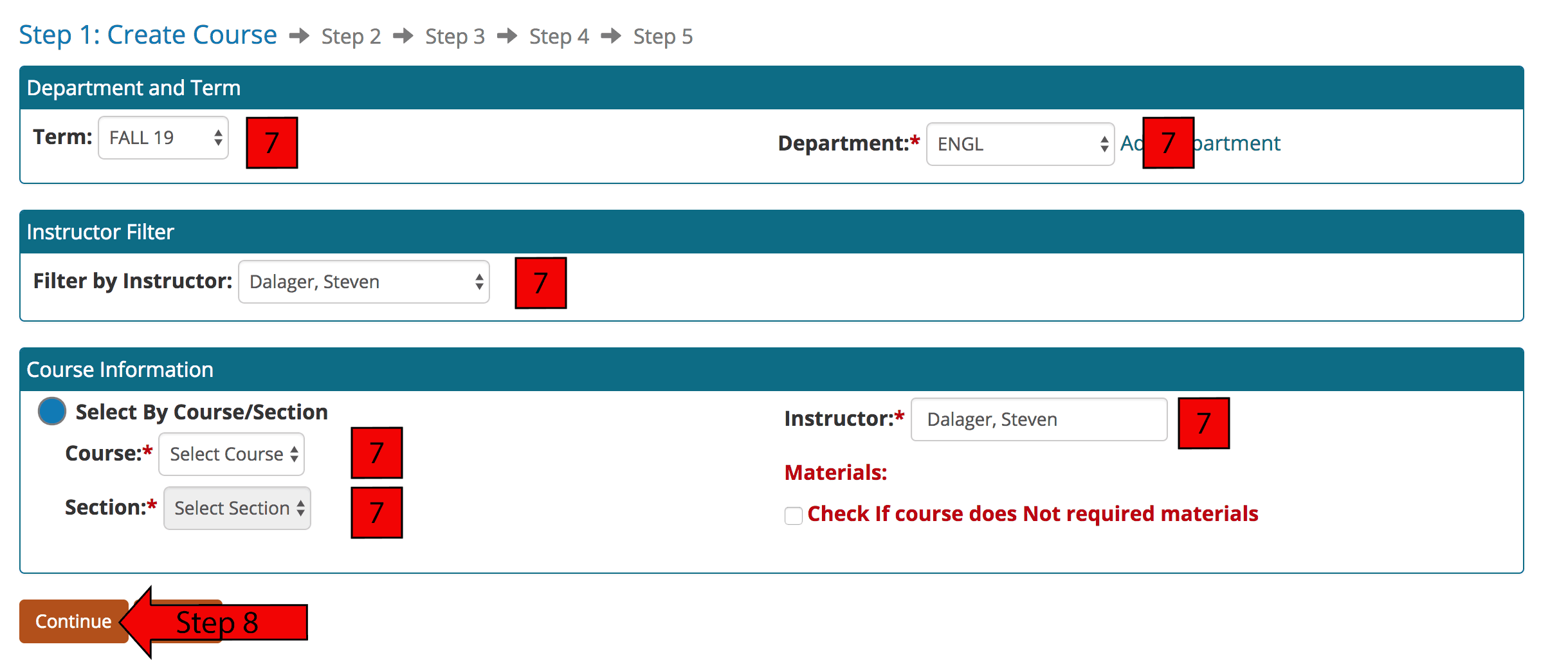 Guided adoption is the easiest method, and the method suggested by bookstore staff.
Guided Adoption
Finding your books
First Time Users
**Repeat users - if, at this step you see the books you are wanting to adopt in your book list, go to step 15. If the book is not in your book list, perform steps 9-14
9. You will need to search for books. The easiest way to do this is to click "Book Search".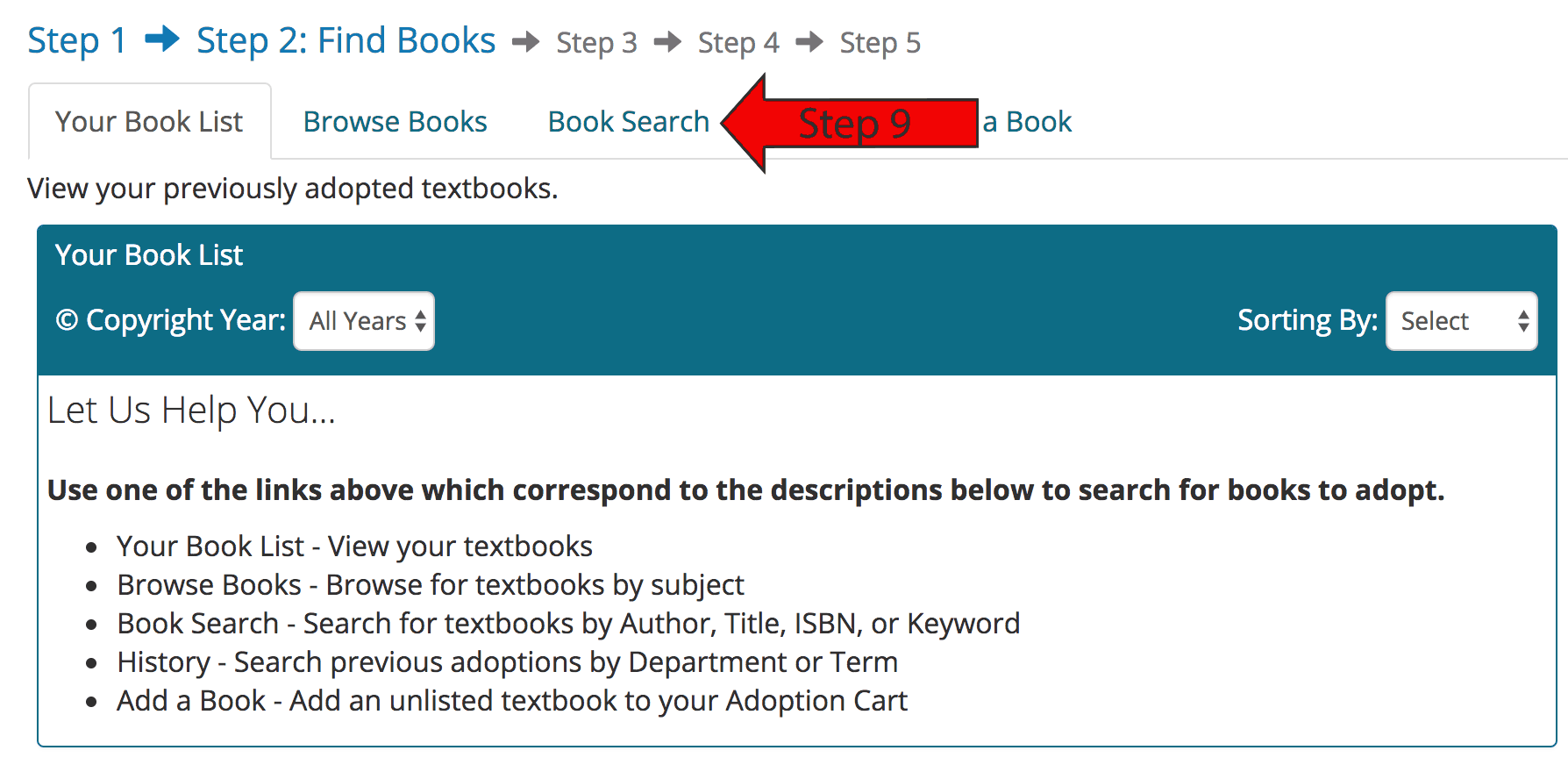 10. You can now search by Author, Title, ISBN or Keyword. Change what you are searching for in the drop down and type information into the search bar - ISBN will be the most accurate. Click "Search".

11. If your book is found, it will pop up below your search menu. If it is not found, skip to step 12. Click "Adopt" and it will be added to the Adoption Cart to the right. Repeat this step for each book you wish to add to your course. Don't click "Continue" until all textbooks have been added to your class. Click "Continue" when ready.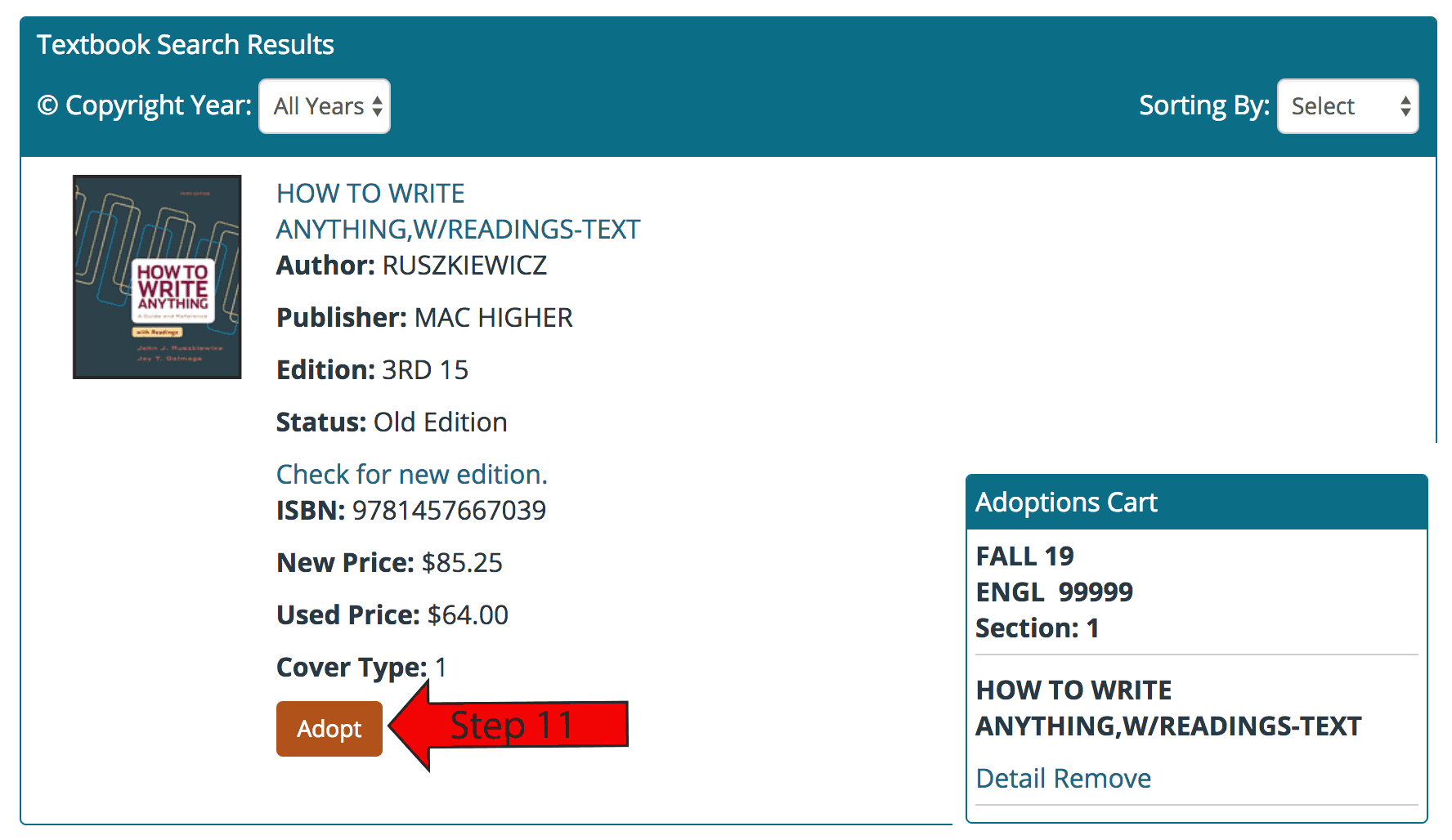 ** Instructor packets can be adopted just like a book. Many packets are already in the system. The easiest way to find this: in step 10, choose title from the dropdown menu and type your department into the search box. This will likely bring up a list of all packets (sometimes multiple pages) for your department. You may find the packet you are looking for normally titled with department, course number, and instructor name - ex. BIOL 1000 BENNETT. If you don't find the one you are looking for, you can add it, proceeding to step 12.
12. Skip if you have already successfully adopted your textbooks. If the system does not have the book you are searched for, you will need to add it to the system by clicking "Add a Book".

13. Fill in all the fields in the "Add a Book form." It is ESSENTIAL that you include the ISBN. Click "Adopt". The book should appear in your Adoption Cart. (OCCASIONALLY BOOKS THAT ARE ADOPTED AT THIS STEP WILL NOT ADD TO CART. INSTEAD THEY DISAPPEAR THIS IS A KNOWN ISSUE AND THE VENDOR IS WORKING ON FIXING IT. PLEASE USE THE OTHER ONLINE FORM TO ADOPT IF THIS HAPPENS.)

14. Once you have adopted all your books for this class, click "Continue".
****If you are adding an instructor packet, please title it Department, Course Number, Instructor - for example, BIOL 1005 BENNET. You may leave ISBN, publisher and edition blank when adding a packet.
15. You can choose the book that you would like to adopt from Your Book List. Click "Adopt"
16. The book will be added to your adoption cart. Don't click continue until all textbooks have been added to your class. After you have successfully added all your books to your class, click "Continue".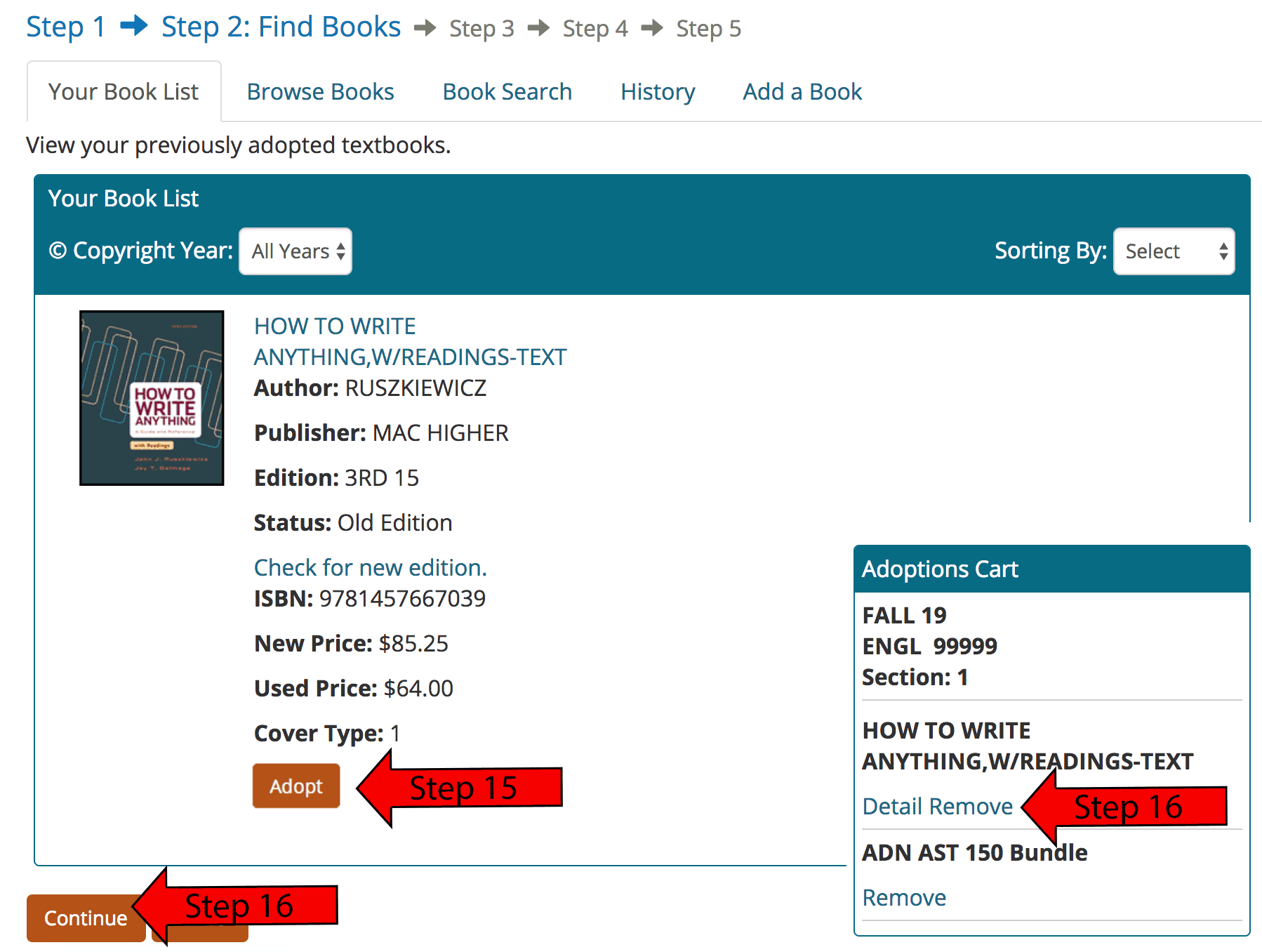 17. From the merchandise menu, simply click "Continue". Our system is currently not functional for merchandise; if you need merchandise please add what you need to the comments section at the end of your order.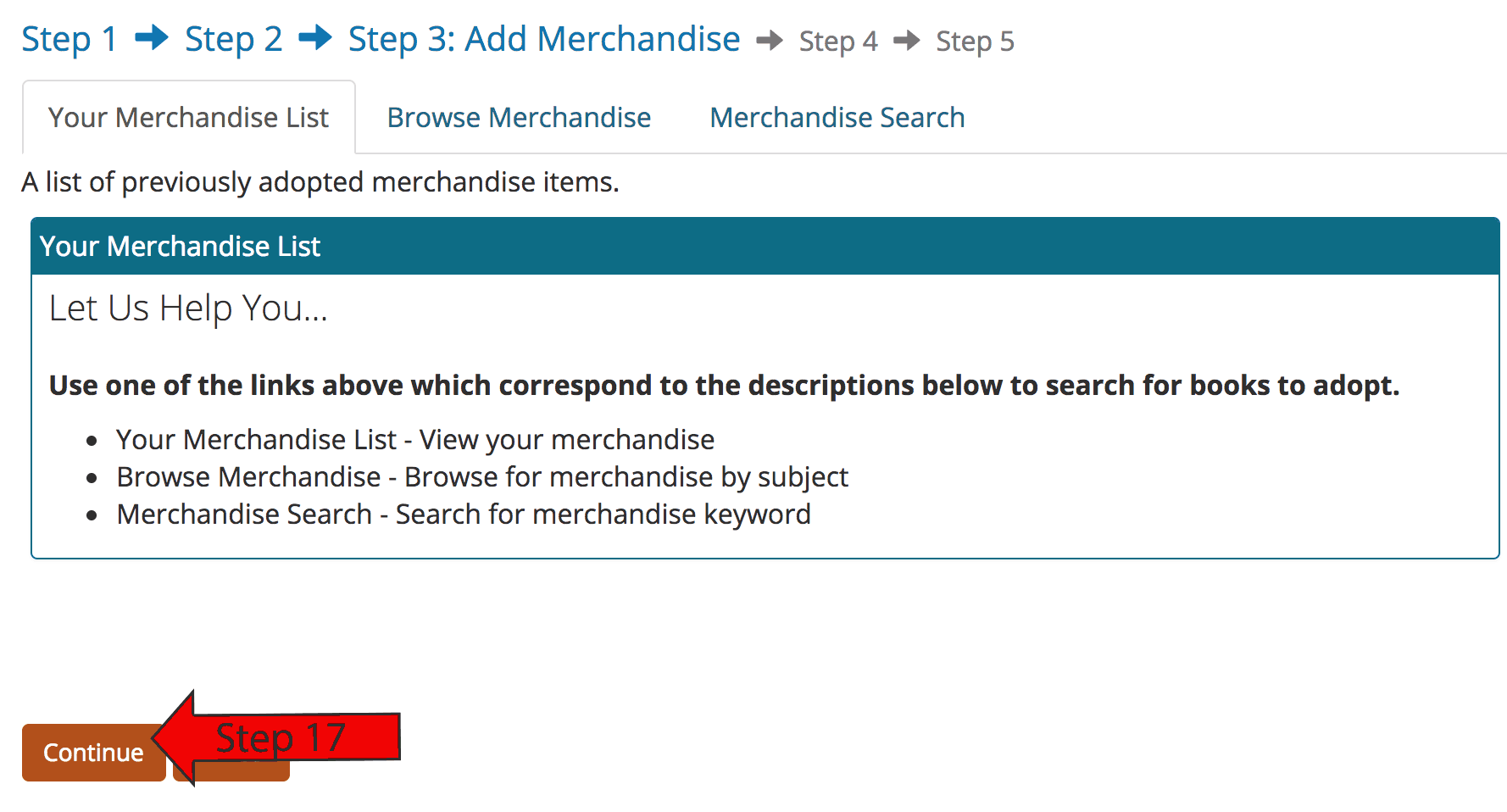 18. Select the usage for each book you are adopting from the dropdown menu. If you have a message you would like to submit to the bookstore, such as merchandise you would like to adopt, this is where you would write that. Once satisfied, click "Continue".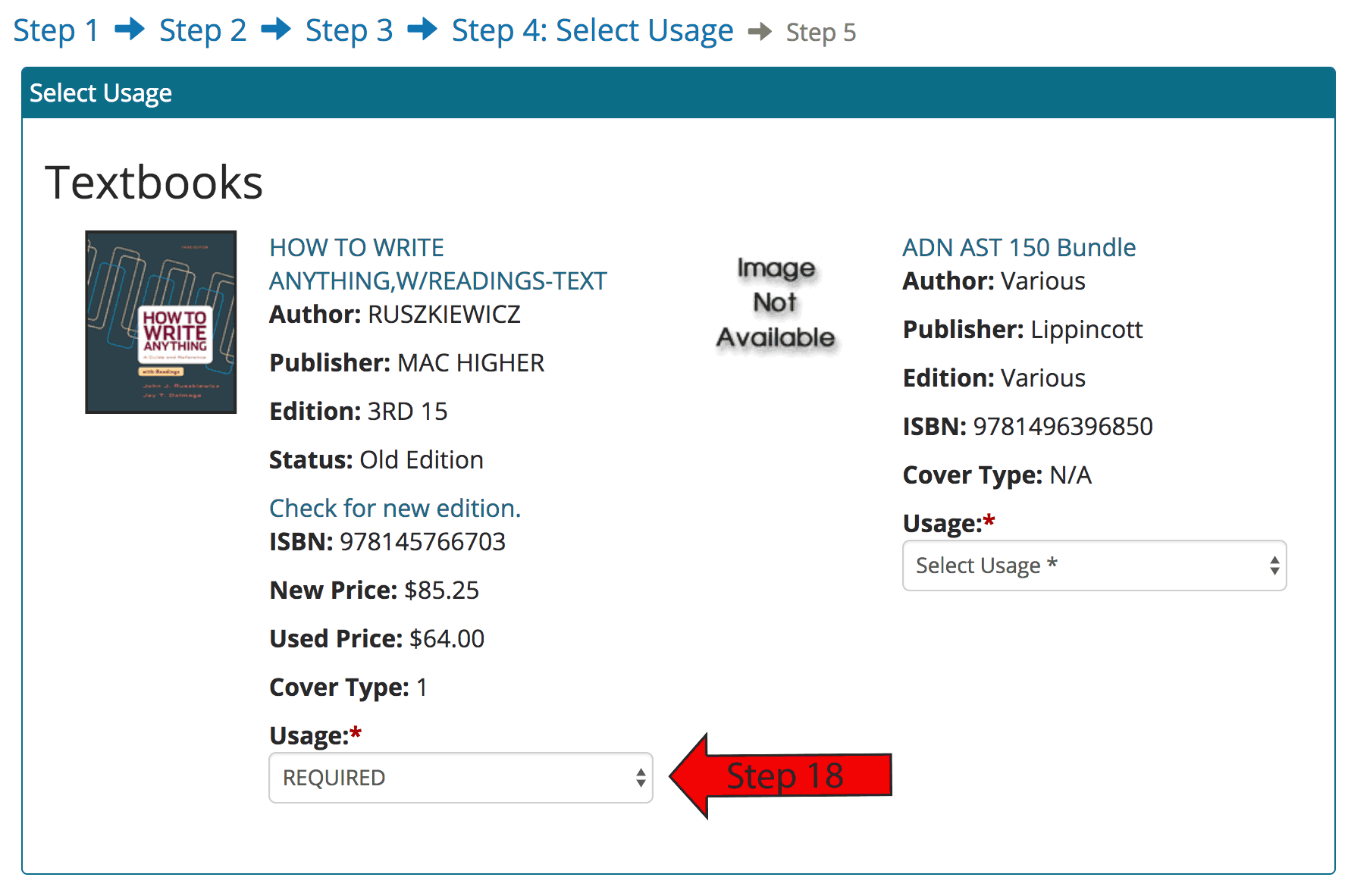 19. Verify that your adoption is correct. Enter any emails of people you wish to receive a copy of the adoption. Click "Submit".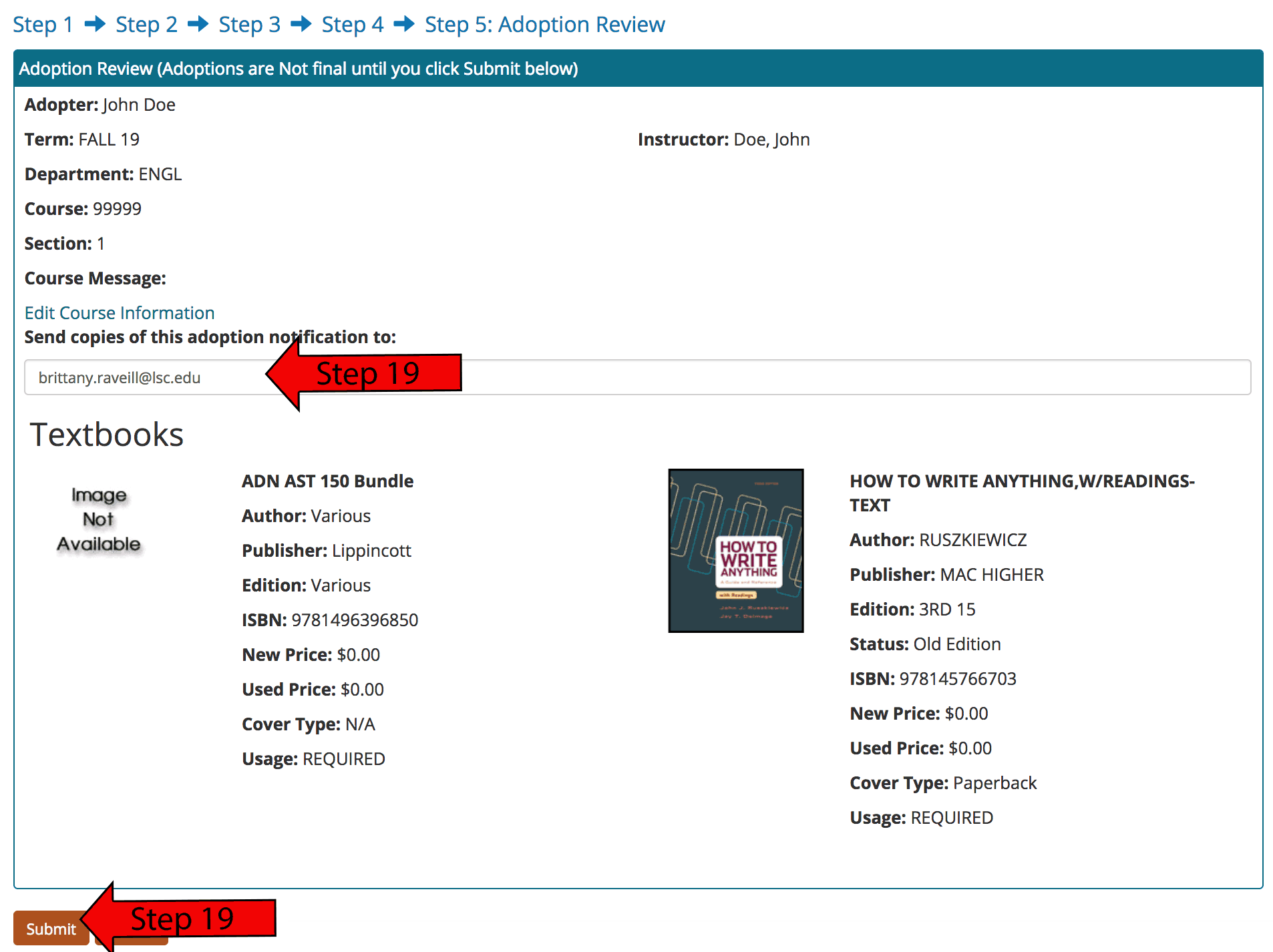 20. You will get a message saying your adoption is complete.
21. A. Done, B. Copy this course, or C. Create a new adoption.
If you have no more classes, you are now done and can close your window.
If you have other courses that use the exact same materials as your previous adoption, click "Copy adoption to new course" - go to step 22.
If you have other courses but the materials for it are different then your last adoption, click "Create new adoption" and start over from step 6.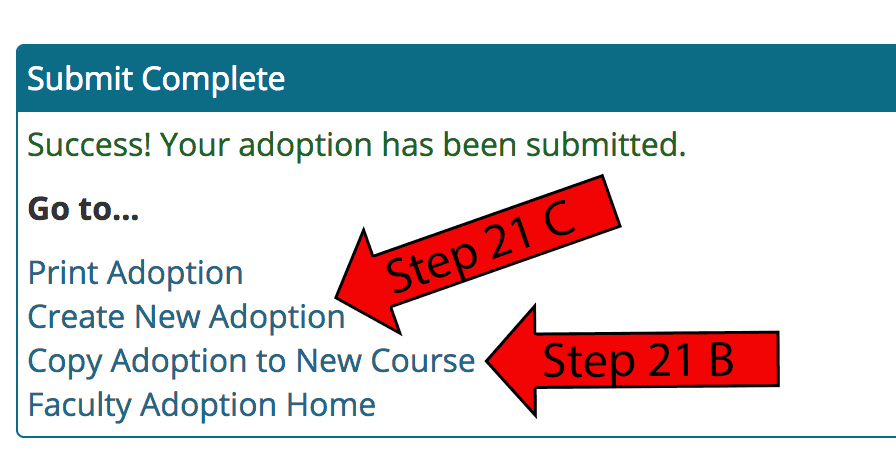 Copy adoption to new course
22. Fill in all the fields from the drop down menus, and choose the course/section you wish to copy your previous adoptions to. Click "Submit".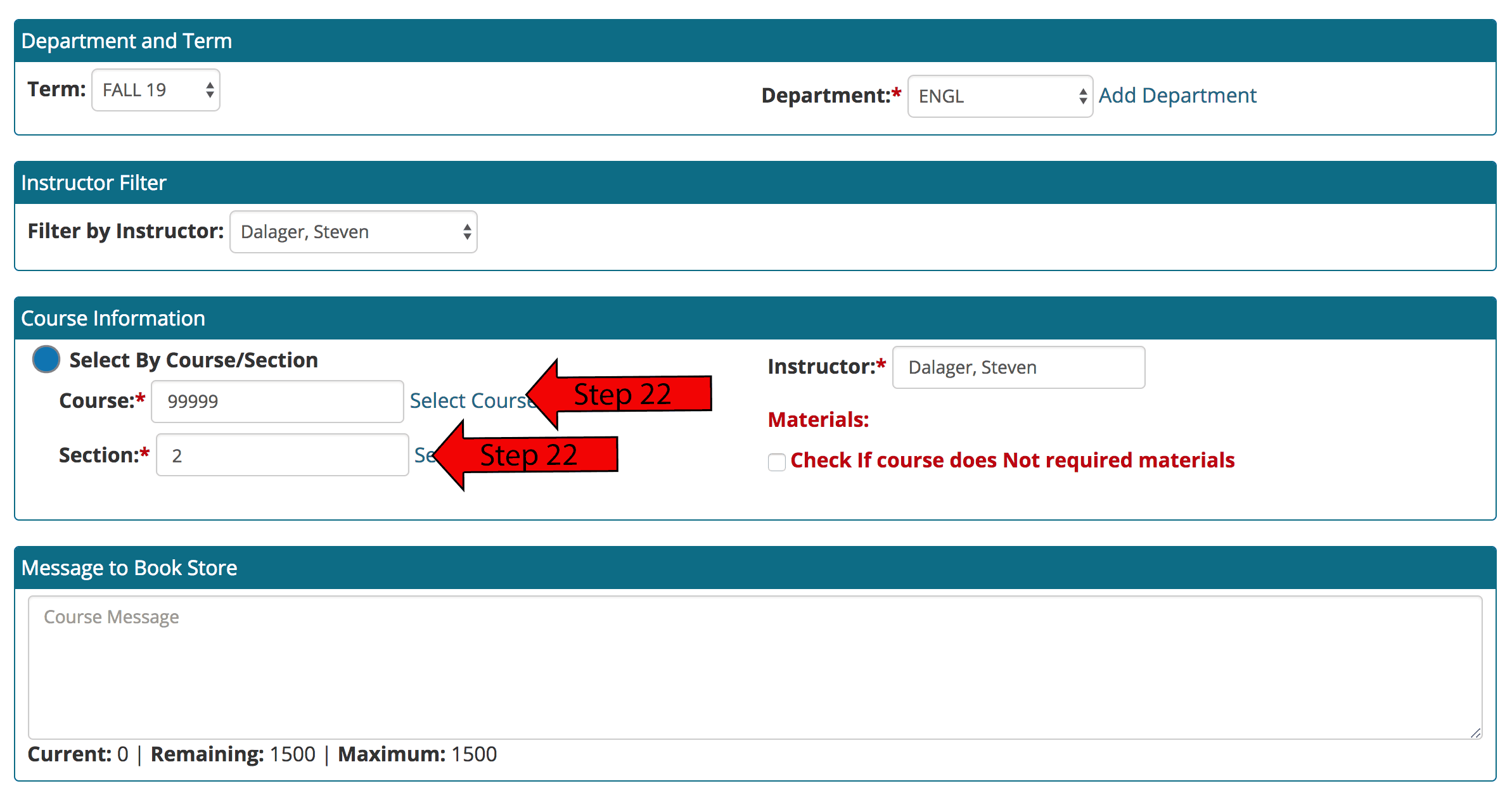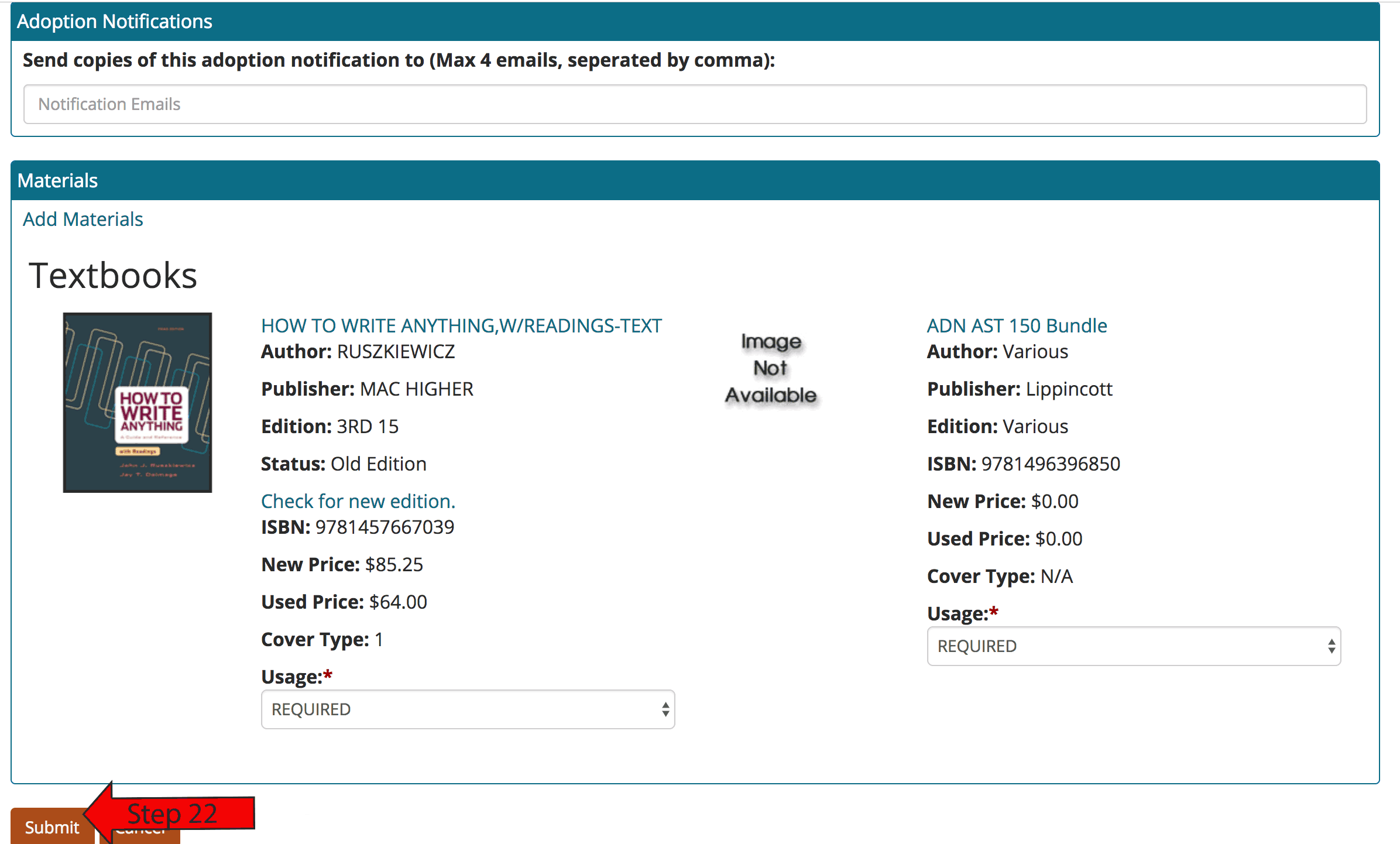 23. Repeat steps 21 A-C as appropriate.
You have now completed "A Guide to Faculty Adoptions"
This guide is intended to outline the most common steps and procedures utilized by faculty. If you have further questions about using the system or other functions in the system, please contact Erin Fischer at [email protected].